A Caherleahe'en Hallowe'en, Maths Week, Leafy Fun, Mighty Mitchels, Proud Parnells and more….
Maths Week was really enjoyable, coinciding with our Hallowe'en activities. Many thanks to all the class teachers and assistants for making it accessible to all our pupils. The Great Outdoor Scavenger Hunt was created and hosted by Sixth Class for the whole school! Craic agus spraoi sa chlós! Each participant won a prize. Minecraft for Ed. continued in Third, Fourth, Fifth and Sixth. Math quizzes were held in the classrooms and Fifth Class created their own Math games to share with their pals. Classes held their individual theme-based Math Trails. All our activities had a touch of Hallowe'en. Of course, everyone dressed up on Friday. Take a look….
Senior Infant Math Game

Senior Infants

Estimate the Weight of Pumpkins and the number of sweets in various jars

Second Class with percussion instruments
Sixth Class led all the pupils on the Scavenger Hunt. Wonderful work!
Fourth Class collaborating….

Second Class have reached the end of the hunt.
Sixth Class setting up the clues..

Racing to the next clue!!
First Class

First Class
Sixth Class Stars
Ninja Staff

Ageing Staff

Forever Young Staff

Rasta Staff

Pink Scully 2nd Class

Third Class

Quacks in Third Class

Deflated and waiting for the mid-term holiday bell! Rang a Cúig
Hallowe'en games in Junior Infants

Flour fun
Junior Infants: Traditional Irish games with a twist!
Monster

Popcorn

Hands
Fourth Class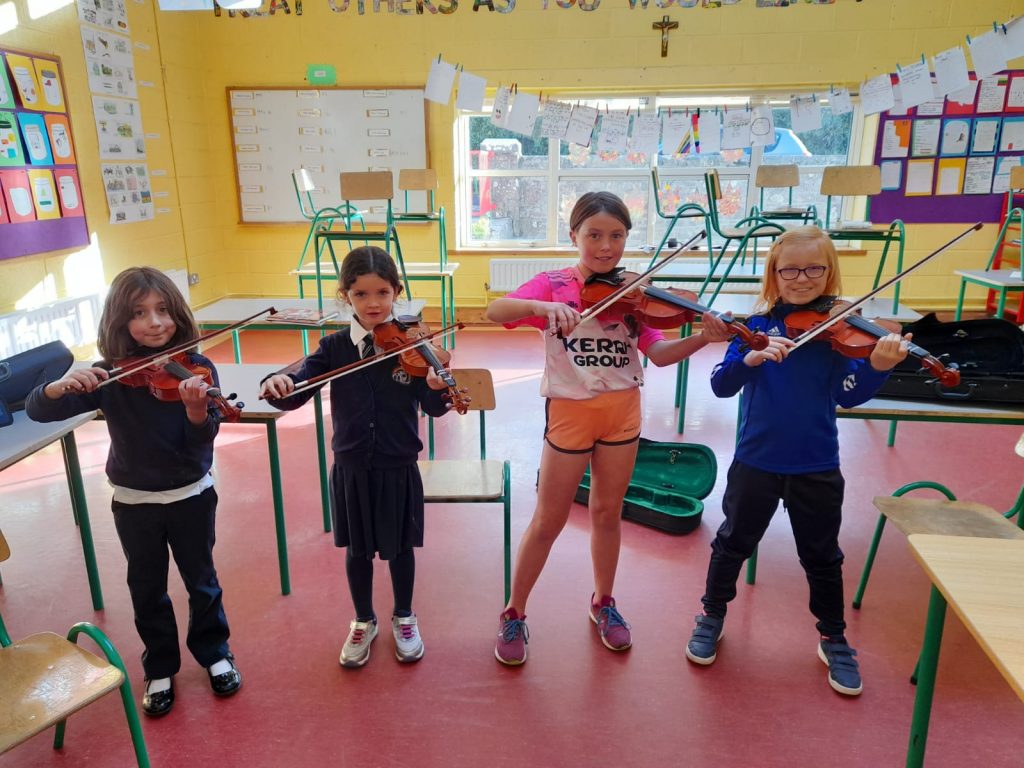 Fourth Class costed the furniture and equipment for an office, using catalogues online

They worked in teams.
Budget: €200
Pupils in Second Class attended their Holy Communion enrolment ceremony

They will attend their Do This in Memory mass with parents every month