Pieta House Amber Flag Award 2020. The promotion of Mental Well Being.
We were thrilled and delighted to receive our first Amber Flag Award in June 2020. Wellbeing is our main priority and will take precedence in 2020/21 as we all support each other during these challenging times.
Junior Infants had a healthy-food party.

Stay nice and still.

Destroyed!

That hurt!
The engagement by Kerry Jigsaw with our Sixth Class last October was so uplifting and affirmative. The 5 step jigsaw cards are excellent and a reminder to invest time in personal and communal mental health for all ages :). So, we decided to invest in their mental health programme , for 12-25yr olds, and raised funds by hosting Hallowe'en Face Painting. Huge thanks to Michelle O Connor- gifted artiste! (parent of Caoimhe G, Jun Infants).
Pieta Pancake Tuesday!
One of our boys, Jack O Shea in Fifth Class has walked Pieta's ' Darkness into Light' every May for years at dawn in Tralee Wetlands. So he was delighted this year, when we all got together in school to make the Amber Initiative a priority. Unfortunately, the walk was cancelled but everyone in Tralee gathered in various corners and estates…..at 5am, socially distanced and mindful of all the vitally important care and work done by Pieta's supporters and counsellors.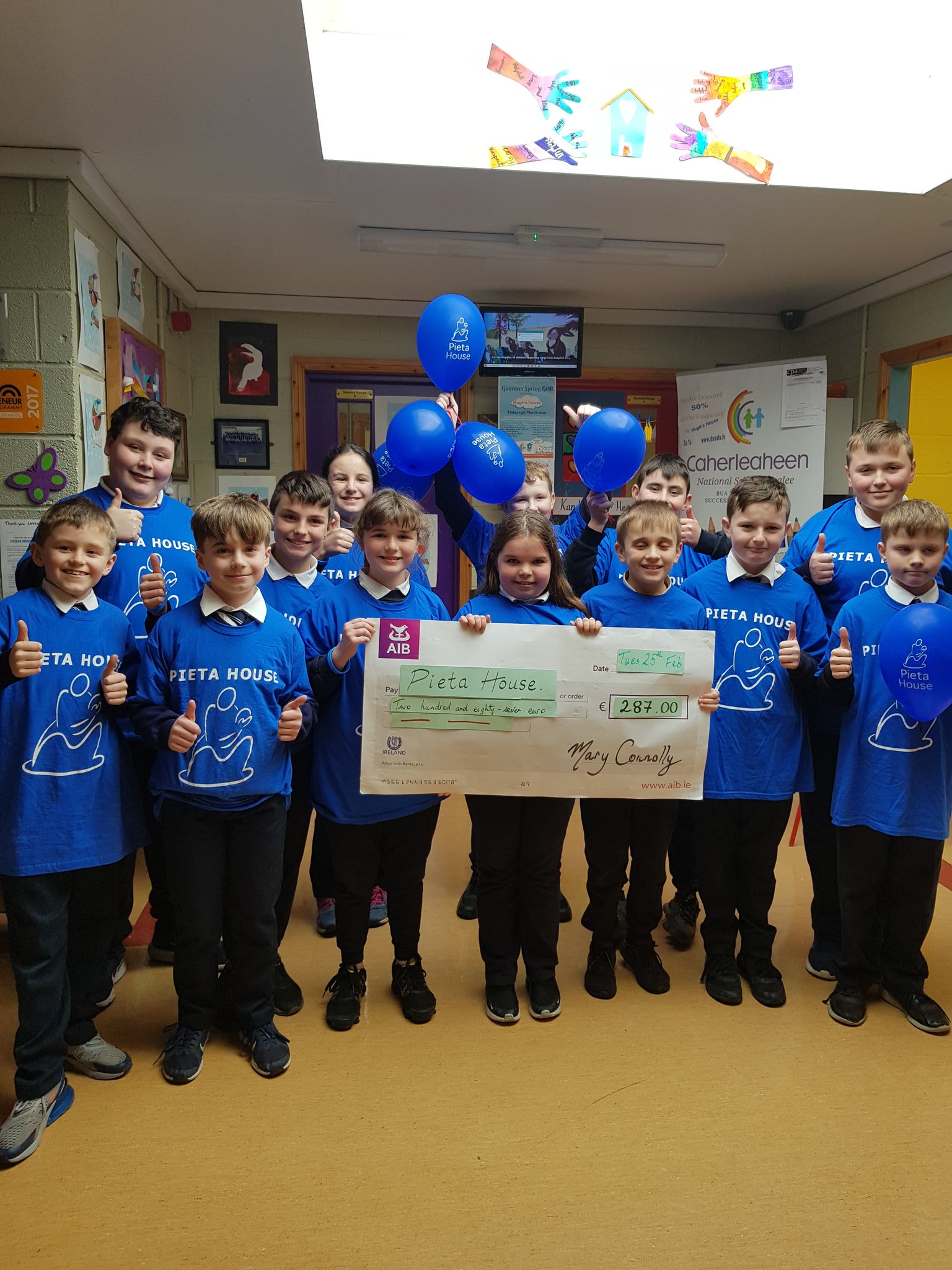 Please see CaherleaheenTeachers facebook page to view video, fundraising and pancakes on those days (Feb 24th, 25th)
Mindful Mondays and Dance Fridays
We agreed in Sept '19 with input from our Wellbeing Pupil Committee, whole staff etc that Mindful Monday had to be every week, if it was to have any impact and to encourage habits for a lifetime. So at 9.45 am each Mon. morning, we play Headspace on the intercom, so that it reaches all 7 classrooms and 4 LS rooms (we start teaching at 8.50am, so the break and breathing space is verywelcome an hour later!). All teachers take an exercise break in their rooms from Tues to Thursday at the same time. On Fridays we have DANCE YARD FRIDAY. We start by playing the current favourite dance song at 9.45am on the intercom. Everyone, in every classroom is up on the classroom drance floor, including the teachers, for 5mins. It helps to do it at that time in case it rains at Fri lunchtime. Invariably, as it's usually dry, we wheel out the mobile sound unit every Friday and supervising teachers play great songs via their mobile phones. Real pressure there! The requests are endless!! We love dancing and grooving!

Please check out our twitter account @CaherleaheenNS , also our Caherleaheen Teachers facebook page to get a further taste of how we are all trying to promote mental health in these challenging times.
Finally! Huge thanks must go to our Wellbeing Committee. They have been amazing! Here is part of their application: Ní neart go cur le chéile! Míle buíochas libh go léir!